There's Nothing Spookier Than an Unsupported AMS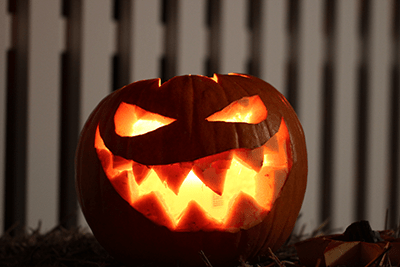 Boo! Halloween is here. In keeping with the spirit of the season, we're going to hold a flashlight upward under our chin and tell a bit of a scary story. Cue the cracks of thunder and lightning, the howling of wolves in the distance, and an ominous pipe organ riffing nearby. This is the tale of the unsupported association management system.
We wish we could tell you that this is just folklore, a myth or a legend. Unfortunately, it's all too real. Somewhere out there, right now, an association is about to sign on to an AMS solution with a provider that doesn't plan to stand behind their offering. If that doesn't make the hair on the back of your neck stand up, the following frightful occurrences that go hand-in-hand with an unsupported AMS certainly should.
Alone in the Dark

If your provider doesn't have support technicians on standby, ready to directly respond to system issues identified by your membership, the only place members will have left to go is to your administrators. Troubleshooting technical difficulties is, of course, not within their job description – or, at least, it shouldn't be. Administrators should be focused on managing your membership. However, without support from the AMS provider, administrators will be left alone in the dark – scrambling to try and figure out a solution to something they don't have the expertise to understand. If your AMS provider stands behind their solution, they should be there for you, no questions asked, to resolve any issues that may occur.

Haunted

Should your AMS provider drop your new association management system on your administrators, without training or instruction, they will eventually be haunted by questions they can't confidently answer. Whether it's in regard to how a certain system feature functions or (as above) it's a technical issue, your administrators will be put in a position of unease – feeling that they should be the experts but not having the knowledge to adequately address the inquiry. Without question, administrators should receive a comprehensive orientation to the system from your provider and should be reassured that they are backed up by the provider's technical team for any questions which may arise that they are not confident in answering.

Cobwebs & Dust

Nothing stays the same in any organization. To continue on the path of success, you need to adapt to the times. As your association changes, so too must your AMS solution. If you have a provider with the mindset that they've fully delivered on their offering by providing you with an out-of-the-box solution and it is what it is until the end of time, get ready to blow away the cobwebs and dust. Implementing an AMS with a provider that has no plan of supporting you through your evolution as an association is an all but guaranteed way to have your solution weigh you down over time. First off, your provider should continually keep you in the loop on updates and improvements that could be implemented to optimize their solution's use. Furthermore, they should make it clear they are there for you should something change in your association that requires customization of the AMS. You should never feel that your AMS is behind the times or slowing you down. On the contrary, it should empower your association to accomplish things with greater efficiency.

Creaky Old Abandoned House

If your members are stuck with a provider that won't directly support them when they are experiencing technical issues and your association administrators can't rectify their problems (at no fault of their own), those members might start to feel like they are trapped in a creaky old abandoned house. This is a bad one. You definitely don't want any member feeling like they have been left out in the cold when they have an issue or inquiry that requires response. If they can't use the AMS to mine the value your association has to offer because something is getting in their way, and their frustration is exacerbated by an unsupportive provider who refuses to troubleshoot them through their issue, they'll start to feel more and more isolated (which is the exact opposite of what you want when trying to build and facilitate a community).

Vanishing, Like Ghosts

This is the final harsh truth when dealing with an unsupportive AMS provider, but definitely the most perilous from your association's perspective. The majority of member engagement will occur online (through your AMS). You'll manage some face to face time with members when you plan an event, but for the most part, you'll live and die with the quality of online interaction you are able to achieve. This means the platform that you accomplish your engagement through has to be firing on all cylinders. If it's consistently clunky, confusing or frustrating to use, members will begin seeing their affiliation with your association as more painful than beneficial. Once that thought enters their mind, it's only a matter of time before (one by one) they begin vanishing, like ghosts. Your role, as an association, is to offer community and value to your members. If you don't have an AMS provider that supports you wholeheartedly in that effort, members will penalize the association (not the provider) by relinquishing or opting out of renewing their membership. The longer the issues prevail, the less members you will be able to retain.
Fortunately, all of the above nightmares don't need to happen to your association. You have the power to choose an AMS provider that continually stands behind its solution and supports both your administrators and your members now and into the future. At Guild, we are passionate about our end-user support and see it as a defining feature of our service. If you'd like to discuss Guild in greater detail or schedule a live demo of the solution, please click here.