It's Conference Season – Member Engagement Should Be Your Highest Priority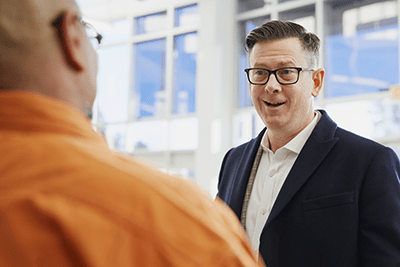 For an association, there may be no time more important than conference season. The face to face time association representatives get with members is few and far between, so when the opportunity is there, you have to make hay while the sun shines.
Since there are only so many in-person events in a year, it's important to have a platform that can sustain your community online in the interim. A comprehensive association management system can accomplish this for you. Guild allows associations to maintain strong member engagement between events and supports administrators in planning and managing get-togethers. If you'd like to know more about Guild or schedule a live demo, click here.
It goes without saying that the event itself requires a concerted effort to get in front of members and engage with as many people as you can. However, to truly engage with your membership in a meaningful way, it's not just the event itself that will require your attention. There are initiatives you can action both before and after the event that will produce an environment where superior member engagement can be sustained.
Below, we have provided a few tips your association can employ before, during and after an event to ensure you stimulate a culture of open and free back and forth between association representatives and members.
Prior to Your Event

Draw on Your Online Community
The best way to plan for successful member engagement is to gauge your members on what they will find valuable in an event. After all, you won't be able to engage with them if they don't show up. To ensure there is excitement and a high level of attendance for your event, incorporate member feedback into the itinerary of the conference. This kind of feedback can be easily gathered through your online association community (AMS).
Promote the Event Through Your Website
While it is important to set yourself up for strong member engagement at an event, you should also be thinking about prospect engagement. If your event is open to industry members that aren't members of your association (yet), make sure they have a way of finding out about it. The best way to inform prospects is to promote the event through your social media platforms and direct viewers back to your website for further information and registration. Make sure the registration process is straight forward, so interested parties don't get frustrated.
Clearly Communicate the Details
When someone registers to attend your event, they should receive clear instructions on date, time, location, directions and any other pertinent information that will facilitate their timely presence. The last thing you want is for your attendees to be misinformed on where to be and when. Ensure the instruction they receive is concise and uncomplicated. Should there be an unplanned change in the event details, make sure your association has a seamless method for informing attendees of that change – an association management system allows you to do this with ease.
Create a Forum for Questions & Discussion
One of the best ways for member engagement to be strong is to build hype and excitement prior to the event. A great way to accomplish this is to create an online forum where attendees can chat about the things they are most excited about, or inquire about event details. When an event is a success, you can bet there was a "lead-up" initiative that got attendees primed for the event itself.
Promote a Designated Hashtag
We live in a connected society – both personally and professionally. Individual attendees will want to let their social media followers know they are at your event and you'll want their tweet or post to exploit the association marketing opportunity that it is. A couple of weeks prior to the event, introduce and promote the hashtag you come up with. Make sure it's not too long, as you don't want attendees to be dissuaded from using it. Have your administrators and event planners use the hashtag on your social media platforms a couple of times before the event (during final preparations) to keep its existence in the minds of attendees.

During

Stay Active Online
Encourage attendees to post photos of the event to their social media accounts and remind them of the event hashtag. Also, designate a handful of association representatives to both post on behalf of the association and monitor hashtag activity throughout the event. Ensure those designated representatives post consistently through the conference and that the content they are sharing is varied (i.e., photos of different speakers, different features of the event, different attendees, etc.). Try to tell as comprehensive a story as you can – so those not in attendance will get a sense of what it's like to be there.
Interact with Attendees Using the Hashtag
When monitoring the use of the event hashtag on the various platforms, digitally interact with each and every post regarding the event. It doesn't always have to be a crafted text response. Sometimes all you need to do is respond with a thumbs-up or smiley face emoji. It's very important to engage members face to face that are in attendance, but it's equally important to exemplify strong engagement online. Doing so will prove to those not in attendance that you interact well with people connected to your association, and may convert them from prospects to members.
Request Immediate Feedback After Breakouts
Garnering feedback is one of the more important initiatives that supports impactful member engagement. You need to identify what you're doing right so you can do more of that. While a post-event follow-up will be the best method for gathering a large amount of attendee feedback, there's no harm in trying to get some during the event as well. Make sure to keep it informal and brief. Ask questions like, "what did you think about that speaker?" or "did you enjoy the topic being discussed?". Getting a bit of feedback here and there can add up to a lot of important information when all is said and done.
Ensure the Layout Empowers Social Behaviour
This tip requires a bit of attention both before and during the event. Make sure you pay thought to the layout of your event space(s). Make sure it is setup in a way that promotes interaction between members, delegates, speakers and association representatives. Attendees shouldn't feel crammed in, divided or sequestered. Ensure there is ample space to move about freely and establish several areas that will draw attendees in and encourage socializing.
Interact with Attendees
You might see this as a given, but frankly, you'll be very busy during the event – running around to make sure everything is going smoothly. Ensure you schedule in windows of time where you will consciously devote effort to interacting with attendees. You don't want to find yourself at the end of the event without having spent face to face time with your members and delegates. Attendees should come away from the event with the opinion that association visibility was strong and representatives were accessible.
Pair Attendees Up
Bring other attendees into the fold when interacting with people at the event. Welcome others into conversation. Always make sure you are facilitating interaction, instead of leading it. There is a lot of value in members meeting other members in person, and potentially even more value (from the association's perspective) in members being introduced to non-member prospects. Try to instigate as much inter-attendee interaction as possible.

Post-Event

Conduct a Follow-Up Survey
This is a crucial step in continually (over time) meeting a high standard of consistent member engagement. Through your AMS, you can easily send out a mass survey to your membership to collect their thoughts. It's important to find out what was a hit and what may need improvement or revision. Every event you put on should be better than the last and as you hone in on what works (and what doesn't), you'll be able to maximize on member engagement during the event.
Provide Topical Value
Figure out what topic of discussion was the most popular during your event and produce a brief resource that can be distributed to your attendees. This could be a white paper or info sheet that relays the broad strokes of the topic. Providing further value is a great way to extend the member engagement generated from the event.
Blog About the Event
Publish an "in-review" blog that extends thanks to all the service providers that supported your efforts in making your event the greatest it could be, and thank your members, delegates and speakers for attending. You should summarize what topics were discussed and if there were any interesting breakouts, mixers or galas – highlight those as well. A blog that showcases your events will show readers what kind of experience they can expect should they choose to attend in the future.
Recap on Social Media Platforms
Any photos that weren't shared to social media during the event should be rolled out in intervals during the weeks post-event. If an event is a success, attendees will have had an enjoyable and memorable time – interacting and engaging with their association colleagues. Having photos trickle through their social media feeds after the event will allow them to relive and remember the greatness of your event.
When you boil it down, people choose to involve themselves with certain groups and communities because they see value in the time spent with them (and, they enjoy being around them). Your conference or event is a proving ground for this, and will either confirm or deny members' strong feelings about claiming membership to your association. Make sure you employ the steps necessary to ensure there is plenty of engagement with your membership and that it's impactful, meaningful and positive.