Your Members, a Couple of Clicks Away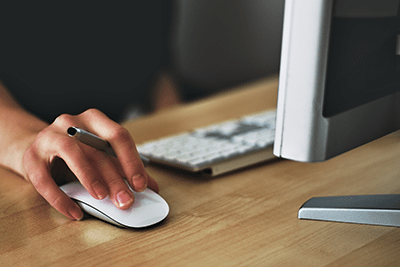 Your administrators are your association's boots on the ground. No one has more interactions with members or has their finger on the pulse of the community more than they do. That being the case, you need to ensure they are supported by an AMS that gives them the advantage of efficient and intuitive access to members.
The administrative team is the greatest asset your association has in its arsenal. If you don't have a system that bolsters their efforts, the time they spend spinning their wheels is time lost improving the overall experience for members.
One of the greatest tools your AMS can equip administrators with is a member repository with comprehensive search functionality. The last thing you want your administrators to be doing is scouring the database for members they can't seem to find. Your association management system should facilitate and enhance your administrators' efforts to locate particular members in such a way that it is no trouble at all to find the person(s) they are looking for.
There's no need for your members to be needles in a haystack. The following search parameter types are just a few examples of options that should be available to your administrators when conducting a scan of members.
Date of Registration

Being able to search the member repository by registration date offers several opportunities. One is that your association may want to conduct some sort of initiative (maybe a lunch & learn) that targets only members registered before or after a certain date. Creating a search with a specific date in mind will allow administrators to hone in on the group of members that fits within the preferred parameters. Another advantage that searching by registration date offers is the ability to target members who may have missed out on valuable resources. Administrators may take notice that certain resources (such as articles, blogs or e-learning courses) haven't had much uptake from newer members. The explanation for this may simply be that the resource was published prior to their joining the community, so they just missed it and have yet to find it. Searching by the date after the valuable resource was published will allow administrators to identify the grouping of members who may have missed it. Administrators could then run a campaign, specific to those members, to try and stimulate further uptake of the resource.

Duration of Membership

Your association may want to host a "long-term member appreciation" event to show your gratitude for their dedication, support and community contributions. Administrators should be able to generate search results for members with a particular longevity of continuously held membership. For example, you may want to honour all members who have maintained their membership for 5 consecutive years or more. Well, with this search type, it will be simple to see how large that group is and which members it is comprised of.

Member Level

There are plenty of reasons to establish member levels within your association. It helps to know the type of members (and their backgrounds) you have within your community. One of those reasons to have member levels is to be able to differentiate your communications from one to the next. The number one rule of communication is to know your audience. If may be the case that an executive level member and junior level member need to have the same initiative described to them quite differently for the communication to be effective. When formulating these kinds of communication campaigns, being able to search by member level really makes it simple to know who should be sent what.

Age

Searching by member age can, again, help you to effectively market your valuable resources. It can also help you identify the size of certain age groups, should you wish to host an age-specific initiative. For example, your association may want to plan a young professionals networking event for members within a particular age range. Being able to get an idea on number of potential attendees will be made simple with this type of search and will allow administrators to meaningfully plan for a successful event. Another advantage this type of search provides is the ability to accurately understand the composition of your association. Maybe your administrators find that 70% of your association is comprised of experienced industry members, which may prompt you to decide that more young professionals need to be enticed toward your community – resulting in youth-centric marketing campaigns tailored for fledgling prospects.

Location

Searching by member location may be one of the most advantageous types of searches available to your administrators (should your association span across several provinces or states). Knowing where certain members are based can illuminate opportunities to engage them. For example, your association may be hosting a series of events featuring one in each state they operate within. Instead of sending duplicate invitations for all events to every association member, administrators can target specific groups of members, based on their location, for the event that makes sense for them to attend.

Certifications

Being able to track certifications allows your association to ensure its members are adequately accredited (if so required) and also lends insight into what kind of skillsets your members are interested in. Knowing the areas your members are interested in can influence the e-learning courses you decide to develop and provide. Offering resources that you know your membership is interested in will most likely result in strong uptake – which should always be the goal when choosing what types of courses to offer.

Professional Background

Within an association, even though it is focused intently on one particular industry or sector, there are typically many variations that comprise the collection of professional backgrounds your members represent. Having the ability to search by occupation will allow administrators to better understand the roles members are playing within their respective organizations. Garnering this knowledge will allow your association to formulate better and more diverse content. You want to provide value to as many types of members as possible and being able to find out who is in the bounds of your community will allow you to serve each professional background more effectively with resources that apply directly to them.
The above are just a few search types your administrators should have access to. The key is that your AMS has the capacity to accommodate the inputs most beneficial to your association. So, if you require custom search types to suit the needs of your administrators and better serve your members, your solution should adjust to meet that requirement.
To learn more about how Guild can empower your administrators to connect more efficiently with your membership, please click here.