An Out of the Box Solution Just Won't Do it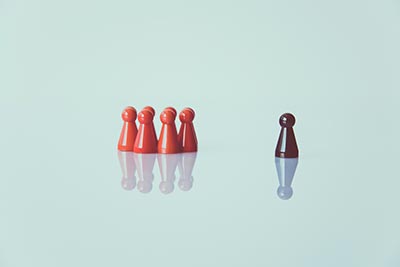 We hear this term quite often – "out of the box" solution. It sounds extremely appealing and convenient. To have something handed over, without any up front tinkering, and work from "go" just as you need it to sounds awesome. While it is undeniably tempting from a hypothetical standpoint, you shouldn't plan for success in hypotheticals. What you really want is to command as much control over what you're investing in – so you get exactly what you need. It's not realistic to expect that your pain points will be solved by a system that has not been influenced by your association's input. A standardized solution designed to be general won't cut it. You need specificity to empower your success and support the way your association does things.
Little details and perfect tweaks don't come "out of the box". They come from focused interactions with the AMS provider. They come from your association's refusal to accept anything less than what your membership and administrators need. They come from customization.
But, what are the specific reasons why an "out of the box" solution won't work? Why does your association require a customized AMS for your needs to be satisfied? Below are some of the key reasons why it just makes good sense that your AMS needs to be customized.
Every association is different

This is the most obvious reason why you need customization. There are so many different types of associations out there. How can anyone be reasonably expected to meaningfully deploy an "out of the box" AMS solution that has been made general enough to cast a wide net? For example, if an association of professional engineers and an art teacher association are using the same member management software, without any tweaks or customizations specific to their community, can we conclude (with a straight face) they are both garnering a level of benefit that is equal to their investment? I wouldn't think so. Whether your association is for engineers, art teachers, optometrists, coin collectors, screen writers or whatever other profession or passion based community you are a part of – it is unique in its own way. It differs this way or that way, and because of these differences (that define your association's identity), you need an AMS tailored accordingly. The longer your uniqueness is ignored, the duller and less identifiable your association will become.

Your administrators are different

From an association management perspective, your professional administrators are your greatest asset. They know the inner workings of your association and the needs of your membership better than anyone. Every association's administrative staff has different responsibilities and workloads, and the resources they need to accomplish their goals are different as well. If they are equipped with an "out of the box" AMS, it may meet their needs for certain processes. However, it will also more than likely completely miss the boat for other tasks they are expected to execute on. So, what administrators really need to empower their efforts is a solution that considers their unique workflows and makes the execution of their tasks more streamlined.

Every membership is different

Your association's members are different from any other association's members. Their education is different, their professional background and expertise is different, the roles they fill within their organization are different, their industry is different, and so on. Because of all these differences, their needs are different – the reasons why they joined your association are different and what they find valuable is different. You're going to need an AMS that allows your association to rise to the occasion in the eyes of your members. If you have a generalist AMS to service your members and it isn't optimized to offer the value they are in search of, they won't be your members for long. Invest in a solution that is made with your members in mind.

Needs will change

It doesn't matter what endeavour any of us embark on – the goal is always to grow, improve and expand that initial vision. The same goes for your association and all of its initiatives. Let's just go ahead and confidently state that it isn't presumptuous to say that you want your association to grow and become something more than it is right now. That's why you need to implement a customized and configurable AMS, as you'll need a solution that can grow with you through those evolutionary changes. It's not that an "out of the box" solution can't be added on to or augmented. However, the provider is sending a message about the nature of their product when they say it is "out of the box". They're saying, "we want you to use this product as is because we don't want to put more effort into it". I don't know about you but I'd rather have my AMS provider showing that they plan to stand behind and support their solution continuously. There's no better proof that your provider will be hands-on than a provider who offers customized solutions, bespoke for your needs now and in the future.

The process support software you use is different

The solutions your administrators use to keep the business side going are unique to your association. For example, you may prefer one software from the next for processing member fee payments. However, your preference is undoubtedly different than another association's preference. So, there is really no way for an "out of the box" solution to be synchronized with your process software because, by definition, an "out of the box" solution isn't considering the details of how you do things. Essentially, what this means is that, with an "out of the box" solution, there is far less chance for automation and integration than with a customized solution. And, what a lack of automation means is far greater duplication of effort required on the part of administrators. Your support staff and administrators will thank you for providing them with an AMS solution that is specifically customized for their workflow and frees them up to meaningfully manage your membership.

You need a provider that supports you

As mentioned above, "out of the box" might as well translate to "hands off". The whole idea of peddling an "out of the box" solution from the provider perspective is to be able to step away from it as soon as it drives off the lot. I cannot state this enough – you do not want to invest in a provider that plans to wave goodbye once you sign on the dotted line. You're going to need a supportive provider to be there for you as you implement your new system. Administrators should not be left high and dry, trying to figure out how to best use your new AMS solution. It goes without saying that the most efficient method for roll-out is having the provider comprehensively train those who will be using the system and stay available to them (in an ongoing fashion) for any follow-up questions or concerns they may have. When a prospective provider is adamant on working with you to provide you with a solution tailored to your needs, that's a great sign that they plan to stand behind their offering. If a provider is intent on customizing their solution so it matches your needs, it shows they are dedicated to providing you with something of value, instead of just making a sale and moving on.
Your association is its own thing and the details of how you prefer to do things matter. There's just no way the great elements of your association will be highlighted through the use of an "out of the box" solution. Invest in an AMS that empowers your association's greatness by ensuring it is customized to your benefit.
Guild builds custom AMS solutions that are tailored to our clients' varying environments. To learn more about AMS customization or schedule a live demo of Guild, click here to contact one of our representatives.